Recently I was fixing a piece of equipment and wanted a pulse counter to verify a stepper motor system. The existing linear slide was failing, but had a non-standard TPI. The step output was already programmed into a PLC. I had a programmable motor drive, but needed to know how many steps were commanded for a given linear move so I could electronically gear the system to a new linear slide.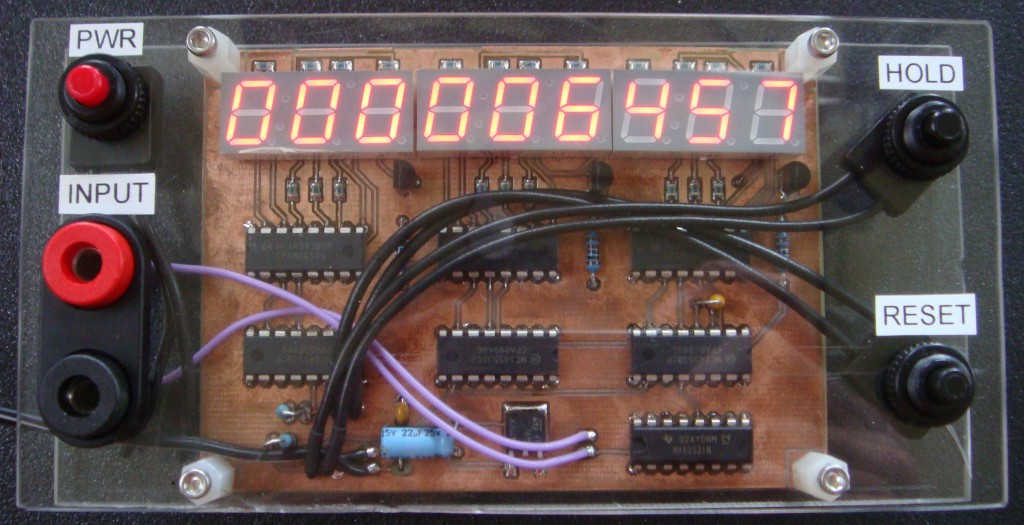 That's when I found the MC14453 3-digit BCD counter from ON semiconductor. ON semi has integrated three decade counters with an oscillator that multiplexes the 3 digits of an LED display. You pair it with an MC14543 7-segment decoder to have a three segment counter. You can cascade as many of these two chips as necessary by using the overflow output to clock the next stage, and feeding the first scan clock to the next multiplexer. I made a 9-digit counter, but you can do any multiple of three.
I used a MAX232 to drive the input of the counter. It's a bit of a waste of the MAX232's abilities, but the MAX232 does a great job of handling a wide range of input signals and it's only about a buck.  The chip can handle inputs from +30V to -30V, and still triggers between .5 and 1.5V with a 5V digital output. It also offers +/-15kV ESD protection on the inputs. With this capability you can sample a variety of different signals without any level shifting (even AC). With a few more input components (current limit resistor, zener clamp, series capacitor) you could capacitively couple the signal and measure anything. I wanted good low frequency performance so I skipped that part.
The parts cost about $6 per 3-digit stage. They are all available at Digi-Key. Part numbers:
MC14453: MC14553BCPGOS-ND
MC14543: MC14543BCPGOS-ND
MAX232: 296-6940-5-ND
7-Seg display: 160-1544-5-ND
The only problem with this arrangement is that the MC14543 is driving the LED segments, so it's limited to less than 10mA drive current. That makes the segments a bit dimmer than I'd like for easy viewing. If I was doing it again I'd get some cheap transistors to run more current. The display is capable of 20mA.
The schematic can be found in the datasheet for the MC14553. Keep reading for the layout and schematic for my build.
Click images for full-size.  I mixed up the bias for the hold and reset inputs, if you use momentary off-on switches replace reset with R25 and hold with R26. Otherwise make sure the switches are normally closed.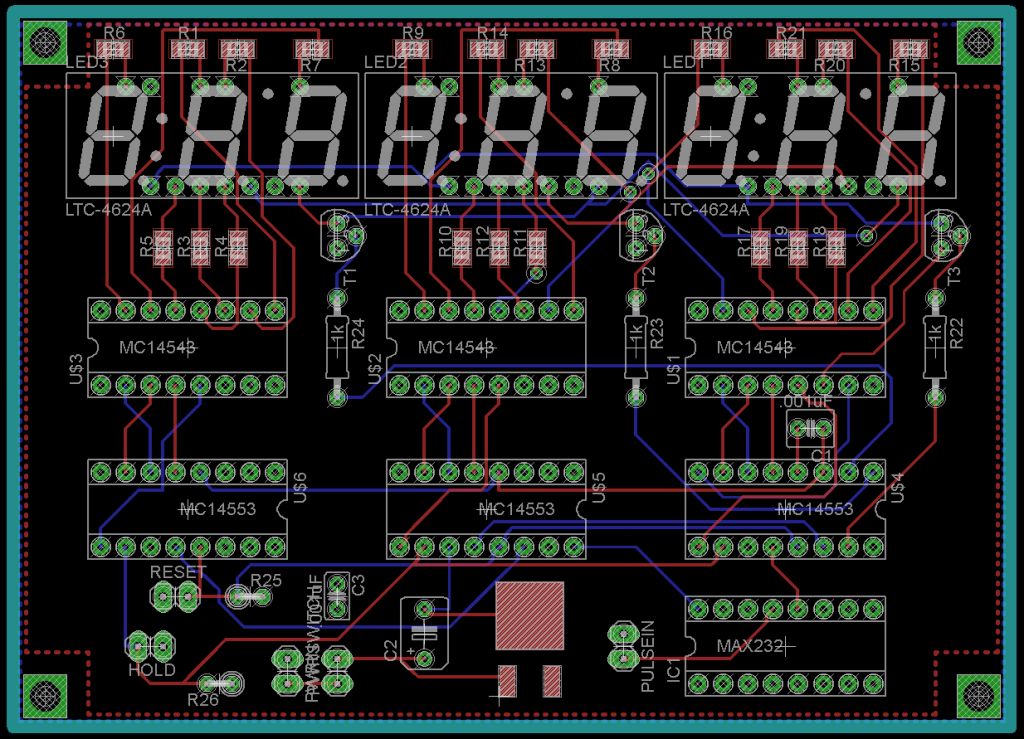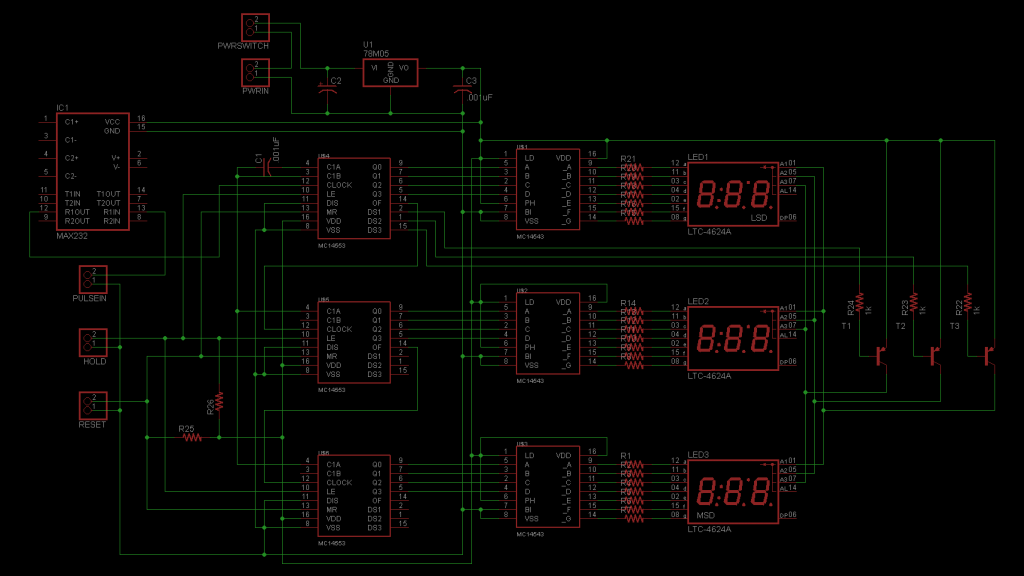 21 Comments to Build a 9-digit Pulse Counter for under $20
Leave a Reply