Archive for December, 2010
I recently put together a multiscreen setup of Forza 3 motorsports for Xbox 360. Forza 3 is the first driving game I've played that made spending the time and money worth it. However, I had a few annoying problems along the way so I'm writing this article to potentially help anyone with problems like I had. This isn't about how to use multiscreen to increase the field of view on one monitor (which is about all you can find on the web). It's about using three screens together for one wide display with Forza 3. At the end I share how I did all this for cheap.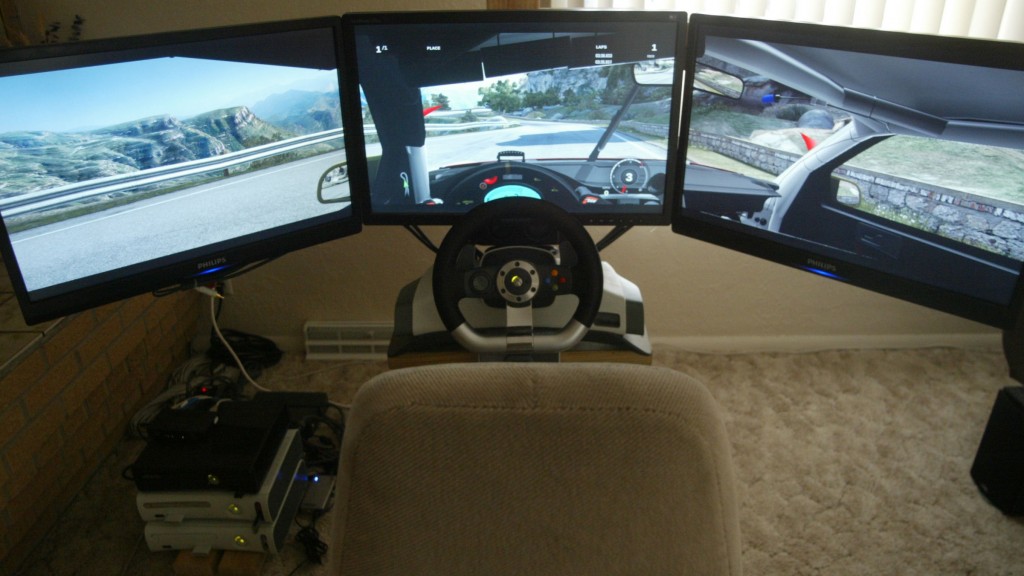 First off, you need three of the SAME copies of Forza 3. Mixing in an ultimate collection with the regular versions won't work, they won't connect. It took me a while to figure this out. Either use three ultimate collection versions or three regular versions. If you have three regular copies and you bought the ultimate to get more cars, you don't need to go out and buy two more UC copies. Just put the UC disc in each machine and install disc 2. Then put the regular copies back in.
Second, you need a switch. I read somewhere on forzamotorsport.net that the data sent between the three Xboxes is a large amount of minimum frame size packets so a hub will work but you run the risk of dropping packets which will cause lag. Remember a hub and a switch do the same thing but a switch can learn where packets need to go based on their address, and a hub always just broadcasts to all stations. That is, a switch is more efficient. Use the uplink port of the switch that connects the three Xboxes to connect to your wireless router or gateway (internet).
Then you will need to verify the connection between the three Xboxes. There are a lot of people on the web saying that you need to be connected to Xbox Live, you need a Gold subscription to Xbox Live for each console, etc. None of this is true. You don't need Xbox live for this to work. I know because I tested the multiscreen capabilities before I signed any of my consoles on to Xbox live. In fact I probably wouldn't have bothered with Xbox live but I wanted the LFA from Stig's Garage car pack.
Anyway, sign in on the Xbox that will be your center station, it will be the host and have your profile. It is easiest to test your connection by connecting to Xbox live through the test network utility in the console settings. If you go to: my Xbox / console settings / network / test settings it will test the connection from the console all the way through the local network to Xbox live. If you feel like it you can log on to your router and assign a static address to the three Xboxes to keep it tidy. You can see what IP each of your consoles was assigned by the router in the network settings on the console. All that matters is that they are different and in a range accessible to your router. None of that is really necessary though, if you only have a switch connecting the three consoles. The Xboxes will each assign themselves an address if they can't find a DHCP server like your router. Your router is typically what assigns local IP addresses. › Continue reading